SWR's Art and Literature Club Brings Many New Faces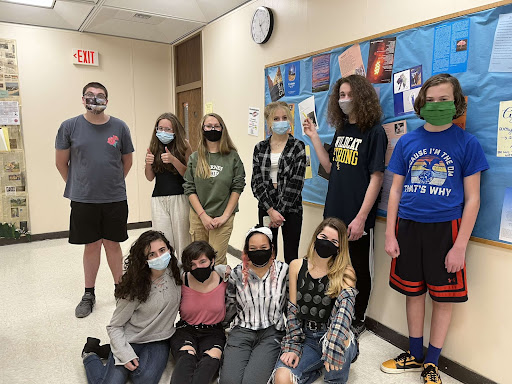 Shoreham-Wading River's Art and Literature club, "Cymbals," met for the first time this school year on Thursday, September 23rd with many new members. Over 30 students attended the introductory meeting, with most of them being freshmen who are new to the school. Club supervisors Sara Trenn and Jennifer Nazer were amazed and excited for the new flood of members.
"The first day of Cymbals this year was a revelation! I was so honored and proud that the enthusiasm of our members brought so many new people to our door," said Ms. Nazer. "I always saw Cymbals as a place for creative minds to meet, play, and share their work with other like-minded people who would support them as people and as artists. It seems as if that idea appealed to a lot more people than I thought. I even got a little teary-eyed and overwhelmed with pride for what our members have created."
Cymbals has always been a hub for creativity. It's magazine at the end of each year contains the best poetry, short stories, art, and photography from that year's student body. Throughout the school year, the club serves as a place to improve member's skills in their chosen crafts. 
"A yearly goal for our club is to create and share works of art and writing with people who encourage and support creative growth," said Ms. Trenn. "This year, we hope to use some of our meetings as a forum for students to try performing their poetry out loud. We want to encourage our members to branch out and submit pieces of their original work to outside publications and contests."
The flocks of new people in the club may be an issue, however, if dedicated members cannot get time with one of the advisors or if it is hard for exceptional work to be noticed among floods of other work. Veteran members of the club have expressed annoyance with the amount of noise in the room, and the small confines of room A203. 
"It was very chaotic; that's a good and bad thing," said junior Jessica Platz.
Ms. Nazer's room, A203, is great for a small English class, but nowhere near large enough for a club with over 30 members. Possibilities of moving into a different classroom are being discussed. Many members of the club have different ideas and solutions, such as moving to Mr. Mitchell's A204. 
"The space was too small. I think we should move to the cafeteria," said junior Chloe Schiff.
Even with the confined space, many members and both advisors enjoyed the first day and have high hopes for the rest of the year. 
"No matter what happens with our membership, I think the club will continue to welcome others who enjoy their unique approach to humor and creativity," said Ms. Nazer. "I hope that when people join, they will bring with them new and innovative techniques to explore in art and writing. If that happens, the quality of our submissions will get better and more original, and that would be amazing!" 
Editor's Note: Cymbals has since been moved to room A204.