Sex Education: Destigmatizing "The Talk"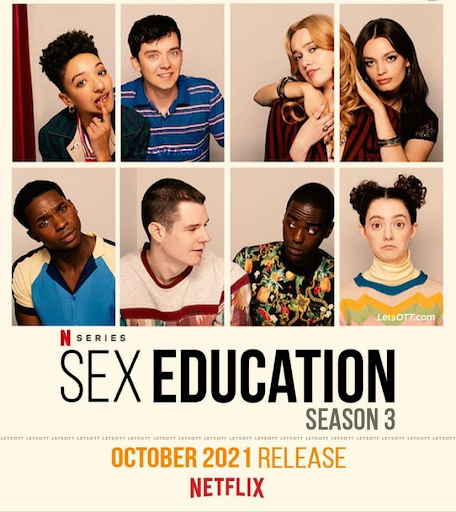 On Friday, September 7th, Netflix released its third season of their original show, Sex Education. The show addresses some taboo subjects faced by high schoolers in attempts to normalize them. Teenagers all over the world have found this show to be relatable and representative of their experiences as high school students.
The Netflix original starring Asa Butterfield massed over 40 million viewers since its release and has become a widely popular show amongst teenagers
The main focus of the show is on teenager Otis Milburn and his mom Jean Milburn, a sex therapist. The conversations about safe sex in the show are so apparent that it has real teenagers questioning their own sex education. 
When asked how watching this show influenced her opinion on how sex education should be taught in schools, senior Chloe McNamara said, "this show definetly sheds light on the dangers of improper sex education and preaching abstinence by showing examples of unwanted pregnancies, abortion, STIs and other problems that can occur because of a lack of sex education." 
The way schools address sex education is proven to have an impact on things like STI rates and unwanted pregnancies. It is important to stir up conversations about these so-called "controversial topics" because they aren't controversial. Although Sex Education is a dramatization, many of the topics that are normally considered "taboo" are problems that average high schoolers face, and it has been shown that it's better to hold an open communication about these things rather than sweep them under the rug. 
According to the Colombia Mailman School of Public Health, "Abstinence-only-until-marriage programs leave all young people unprepared and are particularly harmful to young people who are sexually active, who are LGBTQ, or have experienced sexual abuse."
When sexual education is taught in a comprehensive way—meaning, when children are taught about their autonomy, consent, STIs, gender roles, and sexual abuse—it has proven to benefit them. This is shown throughout many of the plot points within the Netflix Original series.
According to the United Nations Population Fund, "Taken together, these programmes help young people develop self-esteem and life skills that encourage critical thinking, clear communication, responsible decision-making and respectful and empathetic behaviour." 
The sex education curriculum has been debated by state governments and PTA moms for years. Everyone just wants what's best for teenagers. The Colombia article also shows that teaching kids to abstain doesn't work, while showing teens how to safely go about having sex does the job even better. 
Sex education in America currently covers a very narrow range of experiences. According to GLSEN.org, only 19% of secondary schools in the US supplement students with LGBTQ+ inclusive sex education. 
"This leaves many LGBTQ youth without the skills to maintain healthy relationships and protect themselves if they are engaging in sexual activity," according to GLSEN.
When asked what he would change about his own sex education after watching the show, senior Liam Flatley responded with, "We were never explicitly taught about queer relationships within our sex education, and that is just as equally important as heterosexual relationships and should be taught about."