Recommendation | Six of Crows by Leigh Barugo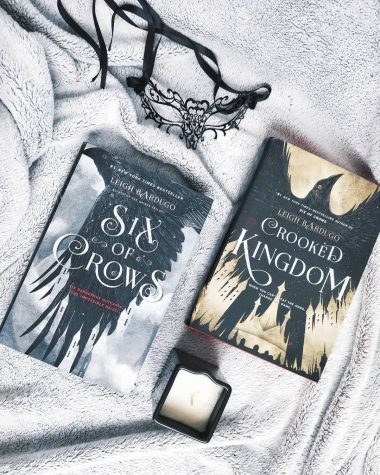 Kayla's Recommendation:
"No mourners. No funerals."
Kaz "Dirtyhands" Brekker, the 17 year old criminal prodigy of Ketterdam and the leader of the Dregs is offered a chance to pull off one of the most dangerous and riskiest heists in history. He must infiltrate the Ice Court of Fjerda in order to rescue a Shu scientist named Yul-Bayur, who discovered a fatally addictive performance enhancement drug for Grisha powers called jurda parem. The heist will be tricky, and he can't do it alone. He gathers a group of wanted criminals, each with unique skill sets, to assist him with the heist. Will they see the job through and get their reward? or will they be captured by the Fjerdans before they even breach the gates? Read Leigh Bardugo's duology Six of Crows to find out! 
---
The Official Publisher's Blurb:
 Ketterdam: a bustling hub of international trade where anything can be had for the right price—and no one knows that better than criminal prodigy Kaz Brekker. Kaz is offered a chance at a deadly heist that could make him rich beyond his wildest dreams. But he can't pull it off alone. . . .
A convict with a thirst for revenge
A sharpshooter who can't walk away from a wager
A runaway with a privileged past
A spy known as the Wraith
A Heartrender using her magic to survive the slums
A thief with a gift for unlikely escapes
Kaz's crew is the only thing that might stand between the world and destruction—if they don't kill each other first.