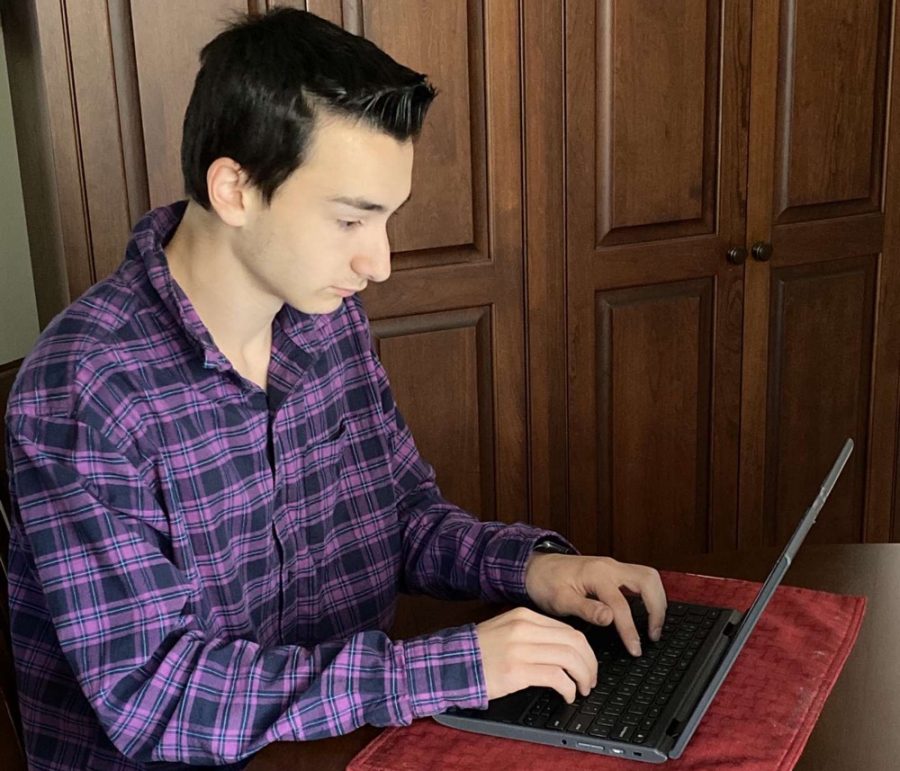 Photograph provided by Adam Zelin.
Students Speak Out on Distance Learning During a Global Pandemic
May 11, 2020
On March 13 SWR students walked out of school knowing that they would be off for a while due to the coronavirus. What they didn't expect was that it could possibly wipe out the rest of their school year. As self quarantining continues, the question of whether school will resume is still in the air, just like the virus which has made us begin online schooling and a completely different lifestyle.
— Michael Casazza
It is fair to say we have all heard the term "The show must go on," at some point in our lives. Simply put, this line means we must work in the face of adversity to overcome whatever challenges have presented themselves and carry on life in the most normal way possible. The coronavirus has certainly presented a unique challenge to both teachers and students around the world. However, the show goes on, life continues to move, students graduate, and curriculum simply cannot be ignored.
— Jared S. Sciarrino
Selene Tan
In Shoreham and Wading River, people go out of their way to stand six feet apart and wear masks and gloves.The district uses distance or online learning as a way to teach students now absent from their classrooms. 
Sophomore Selene Tan views this distance learning period as beneficial. "It helps people relax and take breaks. However, long term it would be pretty bad. We don't even have the Regents."
With anything new, of course, there are going to be people upset or uneasy with the new system. Teachers, parents and children find themselves out of their element. At the high school, to make sure everyone is accountable for their work, the district has recommended that each student virtually signs-in for attendance and teachers assign daily work for students. 
Tan said, "There are some problems, like remembering to do attendance. The assignments given are pretty fair. For example, if an assignment is longer than usual, teachers usually give us more time."
The College Board decided that to be fair to all students around the world, some of whom have lost more instructional time than others, the exam will only include topics and skills most AP teachers had covered in class by early March. Students will also be able to take the tests at home on any device they have access to, whether it is a computer, tablet or smartphone.
AP tests have been shortened to 45 minutes, and for classes requiring essays, students can either type and upload their essay or hand write it, take a photo and upload it. The exam dates have been moved back slightly. 
Tan added that the shortened tests are not particularly fair. "I think it's quite convenient for those who are good in a particular area, like writing a DBQ, but not convenient for those who are good in other areas like LEQ's and were depending on those to get a better grade on AP exams. But I like how I can type because I type faster and neater than I write, which can be beneficial for me personally," Tan said.
However, New York State Board of Regents Chancellor Betty Rosa announced Tuesday, April 7, that June exit exams will be canceled amid the coronavirus pandemic. Students who planned to take one or more Regents exams in June will be exempt as long as they pass the related course this school year. The August Regents are still scheduled, and state education officials are deciding whether to cancel the August tests.
Tan wishes she had the chance to take her Regents exams because of the positive impact they could have had on her grades. "I am pretty upset that the Regents  are canceled. All I can think about is what that would mean for our grades. I don't think we will take them this year or next year," she said.
Antonio Maccaro
While in quarantine, senior Antonio Maccaro discussed the struggles and thoughts he has at this crazy time. He said the biggest struggle is "keeping up with the assignments from each teacher."
 Another struggle difficult to endure through this pandemic is the isolation and the separation from the friends. "I miss talking with my friends and teachers, and learning material correctly," Maccaro said. 
Like most seniors, he is concerned about missing out on senior activities.
 "I'm not sure what we can do yet, but we seniors are missing out on our last ride in high school with our friends and teachers we love. It's heartbreaking for all of us that we may not be going back," Maccaro said.
Adam Zelin
Overall, for senior Adam Zelin, online learning is more difficult than in-school learning, but does have pros and cons. According to Zelin, one positive is that since people are isolated, fewer people will get sick, and the duration of the pandemic will be decreased. 
Zelin said that one con is that there is a lack of direct instruction from teachers, and mental help is a concern because everyone is in their homes, isolated from everyone else with few people to talk to.
Zelin said that he has some classes that are difficult and have a lot of  work, such as language classes, where students learn from speaking, not reading. "My learning style makes this difficult for me. It is extremely hard for me to learn with teachers just posting assignments. I learn best from teachers talking directly to me and explaining. I learn more in school than in online learning because there is a lack of communication, and it's frustrating in certain areas," Zelin said.
As a senior, Zelin said he was looking forward to finishing the year and being with his SWR friends before going off to college. "The end of the year is going to be sad, not having fun activities like a scholarship night," Zelin said.
Madison Borkowski
Moving to a completely online system of learning was a quick switch the school had to make. The process was a learning curve, but the system has its benefits. "I can get the work done whenever I want," senior Madison Borkowski said. "This is a major upside, especially for those who are suffering from senioritis."
Borkowski also has some concerns with the transition. "The amount of work the teachers are giving is way more than I normally get," Borkowski said. "In school, the teachers can monitor where we are at with the work that is given, but with online school they just expect it to be done."
Jaida DiGiamo
Senior Jaida DiGiamo finds herself less motivated through virtual learning since she is not in a school setting. She prefers being in school and being able to interact with peers while completing schoolwork during her free periods. 
"I enjoy seeing my friends," she said. "They make being in school a more pleasant experience."
DiGiamo also prefers to complete her work on her own time throughout the day rather than turning it in during certain time intervals. She said she doesn't understand the point of logging in for attendance in the beginning of the periods and would rather turn in work at her leisure during the day, with teachers taking it as credit for classwork. 
A positive for her during virtual learning is that she gets to relax in the comfort of her own home while working on her assignments.
Nina Kelban
Sophomore Nina Kelban sees that the online learning is more independent. 
"I feel that with online learning, you are teaching yourself, and in school you are actually being taught," Kelban said. 
There are many benefits to online learning, like working from home in a relaxing environment that can be less stressful than being in school. For Kelban, the easiest part of distant learning is the ability to do all of the work online and at a later time.
"I can do the assignments in my bed. Also there is a lot more freedom. You can either do your assignments earlier or later," Kelban said.
Many students are finding distant learning to be easier than regular school. The periods are shorter, the assignments are straightforward, and the students get more breaks. 
Nearly all of the students are getting plenty of work for the shortened periods. However, Kelban said the time flies by and they need more time for certain assignments. 
"It's less work, but it feels like more because of the shortened periods. A lot of times I feel like I need more time than I have," Kelban said.  
According to Kelban, the level of difficulty of the assignments seems right — not too easy but not too hard.  "It's a little of both. Some assignments are easier whereas others are harder," Kelban said.
Brooke Feren
For junior Brooke Feren, among many other students, quarantine is lonely and depressing. 
"I just really miss my friends. I miss seeing the people I hang out with. Sitting in your room all the time is just depressing," she said.
Feren isn't alone. In fact, most of the entire world is locked up in their homes, and it's driving them crazy.
"I understand why we're being locked up. And I get the whole six feet apart thing . . .  I just wish there wasn't a bad stigma about spending time with others."
Living under lockdown conditions can be scary. Not knowing when it's going to end or whether you have Coronavirus can be even scarier. 
"I'm not as scared for myself as I am for other people," Feren said. "I have a strong immune system, but I know a lot of other people don't. I just hope everyone makes it out okay."
Lisa Aracri
For sophomore Lisa Aracri, the change in everyday routine has had its positives as well as its negatives. One challenge, Aracri said, is getting the same level of help on specific topics or contacting teachers about classwork they have assigned. "It is harder to ask teachers questions or for them to show examples to students that need the extra help." 
Another issue that may come into play is time management. "Some teachers assign larger assignments on the same day. Not on purpose, but it makes the workload seem overwhelming." A trick that may work for students, suggested Aracri, is writing down assigned work to organize upcoming assignments. 
On the other hand, there have been quite a few positives about this new academic experience. A change in start time has allowed students to alter their sleep schedules and get some much needed rest. "The later start time has definitely helped to make this process a lot easier," Aracri said. 
Additionally, there has been a significant increase in the amount of down time students have, so completing extra work "can be challenging, but is certainly doable." 
When asked how both students and teachers could work to make the process easier, Aracri said, "we just have to be here for each other." 
As some students may have limited resources or sick family members, this is a challenging time for all of us. Mrs. Aracri summed it up: "We are all handling this situation differently. This is definitely a time where it is important to be mindful of each other."
Nicolette Tingo
For senior Nicolette Tingo, distance learning has added stress during this global crisis. "All of the positives [of distance learning] are outweighed by the negatives because some teachers don't know what they're doing and are making it so stressful and pointless," she said.  Tingo added that another negative to online schooling is that she doesn't get to see her friends and she misses them. However, she recognizes some positive aspects that come with online school, such as getting to sleep in later in the morning.
Although she has been trying to keep busy with starting new hobbies and distracting herself, Tingo still misses her life. She said that this time has taught her a life lesson. "Do not take the simple things that we have for granted. Even just going to school and seeing everybody, that's not something we ever really thought could be taken away."