The Concern for Long Island's Future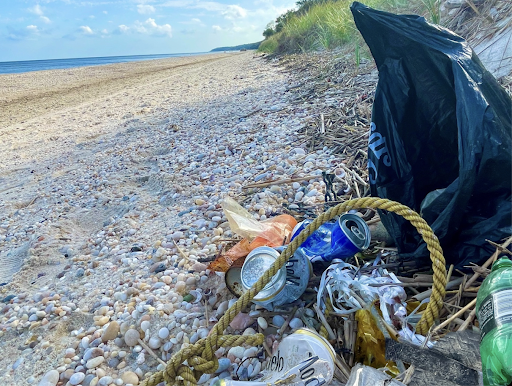 Long Island faces a difficult situation as waste pollution continues to worsen, affecting the atmosphere and water conditions. Without the proper plans and strong efforts from society to promote a healthier environment, the future for Long Island is one that every resident should be concerned about. 
An average individual on Long Island produces 7 lb. of waste per day, and 2.4 – 4 million tons is produced by the region each year as a whole. Less than 50% of Long Island's waste is brought to a conversion center for recycling where the waste is converted into electricity. The remaining waste is transported out of New York State to landfills where it is left to decompose, resulting in a release of methane into the atmosphere. The methane that is released, negatively contributes to the conditions of the climate crisis. 
According to the Long Island Sound Study, each mile of land contains 67 lb. of debris. Aquatic environments such as oceans, beaches, lakes, and rivers contain the most plastic debris and thus contain an extensive amount of harmful chemicals. 
"These chemicals include polycyclic aromatic compounds, lead, copper, nitrate, manganese, and acrylamide," said Heather Leibowitz, an Environment New York Director from an Environment New York News Release. 
Beaches for boating, fishing, swimming, kayaking and parks for recreational use are common leisure locations that attract many Long Island residents, especially during the warmer portions of the year. As these locations attract an extensive group of people, the amount of waste that pollutes these environments increases.  
A focus on the harm done to aquatic life increases as water pollution worsens. Approximately one hundred thousand aquatic animals are killed due to plastic pollution on Long Island each year. However, Long Islanders are also impacted by water pollution as individuals use these waters for leisure. The chemicals that are taken in by the plastic can carry over into the food chain.
The Pew Research Center conducted a study involving public opinion on environmental problems in the United States. It concluded that of the adults surveyed in the United States, 68% feel that the government is not doing enough to combat water pollution. Many students also believe there is a lack of government intervention. Senior Morgan Lynch believes there needs to be more action to combat environmental issues. 
"The government needs to also converse with other countries because this no longer is a United States problem, it's a world problem," said Lynch. 
Jay H. Schneiderman, a Suffolk County Legislature of the Second District, proposed a Suffolk County Legilsature's Regional Solid Waste Management Commission whose purpose would be to investigate different alternatives to lessen the amount of environmental harm Long Island's solid waste problem contributes.
Although there are many views in society that reflect a greater need for government intervention in environmental problems, society also needs to take action in order to combat issues that pose a threat. A Long Island Sound Study developed a campaign to promote actions that can be taken by people to reduce waste that may end up on beaches, streets, and parks to limit the amount of wastes that make their way into the oceans. 
Some solutions that people can take in their personal lives to limit the amount of waste they produce is to opt for recyclable bags, reusable water bottles, composting food, and donating items such as clothes and other household items to donation centers. Using technology also can limit the amount of wastes produced as less paper can be used and thus reducing the possibility of paper ending up in landfills. 
Students at the high school are also taking actions in their personal lives to promote a cleaner environment. "I recycle, I use a reusable water bottle, I also carpool when I can," said senior Sara McAuliffe. 
Although individuals can take certain actions to limit the amount of waste they personally produce, we should also encourage friends and family to live more sustainably and take actions to promote a cleaner environment. 
"I have conveyed to my mother we should recycle and I have asked my sister to turn off the water and lights when they are not being used," said Chloe McNamara. 
One of the biggest problems in our society can be argued as the lack of participation from individuals in combating the environmental crisis. The most influential efforts come from society in which a big part of saving the environment starts with the people. 
"We can see the effects of global warming so there is no downside to helping," said senior Melissa Liguori.