Gabby Petito Case Timeline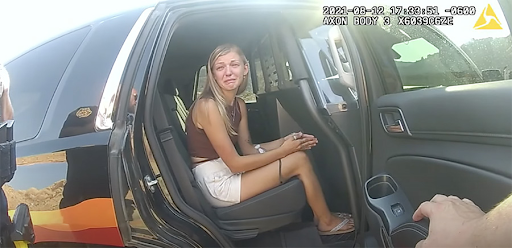 In June of this year, Gabby Petito and Brian Laundrie embarked on a cross-country road trip. They planned to travel the west coast and visit state and national parks along the way. Then, in August of this year, the police had an encounter with Petito and Laundrie, in which the officers said they were "engaged in some sort of altercation."
 Petito's family said they were last in contact with her in the last week of August. After the announcement of Petito's disappearance Petito's family was desperately begging for help from the Laundrie family, which they refused. Finally, on September 21st they confirmed that the body found in Teton National park was that of Gabby Petito, they have thus started a hunt for Laundrie.
This excursion's first bad encounter with Petito and Laundrie was when they were pulled over on August 12th for what a police officer described as an "altercation" in which Brian supposedly hit Petito. But Petito said that she hit him first and then he grabbed her face. Students at the high school that have heard about this event felt uneasy about the information provided — that Petito was the only person in the wrong and that the witnesses who called police about Laudrie hitting her were wrong, as, allegedly, stated by Petito herself.   
"I had a feeling something bad was going on…" said senior Saleena Ali. "It seemed a little too suspicious to me and that there was more to the story than what was shown." 
The "altercation" between Petito and Laundrie was much more than it appeared since not even a month later, on September 11th, Petito was announced as missing, and then ten days later her body was found in Teton National Park, Wyoming. This case has hit home for students of SWR because while it didn't happen close to home, it involved someone so close to home that it has bred a bit of fear in the students of the High School. 
"It's been a little over two weeks and her body was found," said  Ali. "This case has really shed light upon the fact that you can't always trust anyone… She could have been happy with Brian but she never could have foreseen her future." 
Starting about five days before Petito was pronounced dead, Petito's family and the police pled with Laundrie's family to help them find their daughter, but they refused to help and then Petito's father said, "Please, if you or your family have any decency left, please, tell us where Gabby is located," Petito family attorney Richard Stafford says. "Tell us if we are even looking in the right place. All we want is for Gabby to come home. Please help us make that happen." This further breeds fear in our district because it was already seen that it was unsafe based on what happened but then the family refuses to help the victim's family. 
"This happening so close to home is alarming because it makes you realize that no matter how safe you may feel anything can happen," said senior Mara Gray.
There was an official announcement of a warrant for Laundries arrest on September 23rd—two days after the announcement of Petito's death and finding of remains. This has heavily impacted the family and those around them, their child was killed and the (suspected at the time) killer's family refused to help, then their daughter was found dead in Teton national park in Wyoming. 
"I did not have any personal connection with anyone in the Petito family," said Ali. "But even still I feel terrible about everything they must be going through right now." 
Around one month later, Laundries' remains were found with a notebook that the police stated as "Possibly Salvageable" It could very well have information about Petito's death and the time leading up to it. "It's pretty scary to me how some people can do something so horrific," said Ali. "But it's also pretty scary that something like this could happen to anyone, you know?"